Quality Interpretation Services
AIT Language Services has been providing quality interpretation for more than 25 years. Our international, experienced staff is on call seven days a week to assist you in more than 60 languages, and in a wide range of subjects and situations. Contact us with your specific needs, and we will be happy to provide a fast and free quotation.

---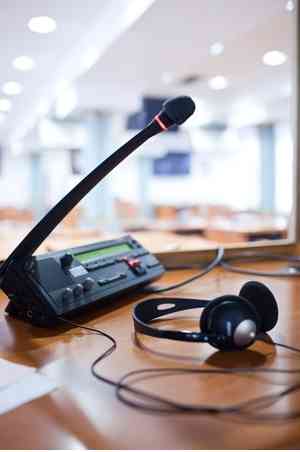 Consecutive Interpretation
In consecutive interpretation, an interpreter listens, waits for the speaker to pause, and then provides interpretation into the target language.
Simultaneous Interpretation
In simultaneous interpretation, an interpreter provides interpretation into the target language as the speaker talks. Simultaneous interpretation is useful during international conferences, symposiums, seminars, and employee training. Headsets and other special equipment are usually necessary, unless the interpreter is whispering to one or two nearby individuals. For a half day (up to 4 hours), one or two interpreters are required. For a full day (up to 8 hours), two to four interpreters are required.
---

Conference Interpreter
An interpreter will interpret what you say to an audience for speeches, TV interviews, press conferences, court deliberations, presentations, or other public appearances.

Meeting Interpreter
An interpreter will accompany you during business meetings, inter-office conferences, video conferences, technical discussions, medical conferences, meetings with lawyers, international telephone calls, video editing, TV program filming, and other such events.

Attendant / Guide
An attendant will accompany you during factory visits, overseas trips, consultations with medical doctors, and other similar activities. A guide will accompany visitors to Japan during shopping, travel, airport pickup and delivery, and various other daily activities.
---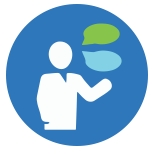 LANGUAGES FOR INTERPRETATION
If your language is not listed, please contact us.
Afrikaans
Albanian
Arabic
Bengali
Bulgarian
Burmese
Cambodian
Cantonese
Chinese
Croatian
Czech
Danish
Dari
Dutch


English
Finnish
French
German
Greek
Hebrew
Hindi
Hungarian
Icelandic
Indonesian
Italian
Japanese
Javanese
Swahili


Korean
Kyrgyz
Laotian
Latin
Latvian
Lithuanian
Malay
Mongolian
Nepalese
Norwegian
Pashto
Persian
Polish
Portuguese


Russian
Spanish
Swahili
Swedish
Tagalog
Tamil
Thai
Tibetan
Turkish
Uighur
Ukrainian
Urdu
Vietnamese
Welsh
---
Level

Half Day
(~3 hours)

Full Day
(~8 hours)

Overtime
(per hour)

Specialized Field

¥69,000

¥110,000

¥18,000

Level A

¥57,000

¥84,000

¥15,000

Level B

¥42,000

¥66,000

¥12,000

General

¥21,000

¥36,000

¥7,000
Fees should be paid in advance.
These fees do not include the 10% Japanese consumption tax, and do not include the interpreter's round trip transportation to and from the place where the work will be done.
In the case of a full day, you will be expected to provide a one hour rest break for the interpreter.
Consecutive interpretation normally requires one interpreter.
Simultaneous interpretation requires special equipment, except for whispering to one or two nearby individuals. Simultaneous interpretation also requires one or two Level A or higher interpreters for a half day assignment and three or four interpreters for a full day assignment.
For business negotiations and presentations, a Level B interpreter or higher is recommended.
These fees are based on ordinary situations. If you require interpretation services in a very specialized field or for a special situation, we can provide a quotation for such work upon request.
For the interpretation services done by telephone or at our office, fees will be calculated on a case by case hourly rate basis. The minimum charge will be equivalent to the overtime rate for each category.

Cancellation fees:
4 or 5 days advance notice = 30% of quote
2 or 3 days advance notice = 50% of quote
No advance notice or 1 day = 100% of quote
Remit payments to:
MUFG Bank
SWIFT Code: BOTKJPJT
Tamagawa Branch (Branch #131)
Ordinary Account #0207763
Account Holder: Kabushiki Kaisha AIT
---
QUESTIONS? Call us now at (03) 3700-8110
We're open every day, 10:00-12:00, 13:00-18:00
Our translation and interpretation services are based in Tokyo, Japan.
However, we can provide our services throughout the world.